The name Ozumba Mbadiwe may not have been so popular, but this was only until it became a hit track from Reekado banks. Ozumba Mbadiwe is a prominent neighborhood in Victoria Island, Lagos State Nigeria. It was named after Kingsley Ozumba Mbadiwe, a businessman and politician from Nigeria's first republic.
Known for his glamorous and flamboyant style, Mbadiwe was a businessman, an activist, and an important political figure in Nigeria's First Republic. Here is the story of the man that was nicknamed 'A Man of Timbre and Calibre'.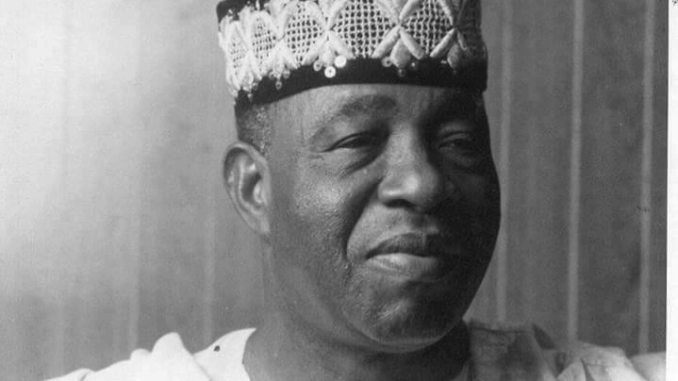 Birth and education
Kingsley Ozumba Mbadiwe was born on March 15, 1915, to the family of Mbadiwe Odum from Arondizuogu, Orlu (present day Imo state). For his primary education, he attended St Mary's Catholic School, Port Harcourt, and went on to a Government school in Aba. His secondary education ran across several schools including the Hope Waddell Training Institute, Calabar, Aggrey Memorial College, Arochukwu, Igbobi College, Lagos and the Baptist Academy, Lagos.
He would later leave Nigeria to study at Columbia University and New York University. Ozumba Mbadiwe is credited with establishing African Student's association, which caught the attention of the then U.S.A First Lady Eleanor Roosevelt, who received him and his organization in the White House.
Entrepreneurship
Right after his secondary education in Nigeria, Kenneth made his first attempt at entrepreneurship. He set up the Mbadiwe Produce Association in 1937 and started trading. He kept this business running until he had to travel out of the country in 1940 to continue his education in the United States of America.
Upon his return to Nigeria after his education, he established another trading business. He also founded a Research Institute on African Arts.
Much later during his political career, Ozumba Mbadiwe set up his own newspaper, The Daily Telegraph, although it functioned more as an organ of protest than as a business.
His brother, James Green Mbadiwe was also a businessman conducting on his account in the Northern Region. He owned the now defunct Green's Hotel on Ahmadu Bello Way, Kaduna built and commissioned in 1939. The property later became a shopping center.
Mbadiwe as a politician
Upon return to Nigeria, Kenneth Ozumba Mbadiwe joined the National Council of Nigeria and the Cameroons (NCNC). It was common then to see the educated elites lead in the political space, especially those who had travelled to other countries to school, and been exposed to the way things worked in sovereign nations.
In 1951, Mbadiwe was elected into the Eastern Region House of Assembly, and re-elected in 1954. He was later appointed Minister for Lands and National Resources, and in 1957, became the Minister for Commerce. He left NCNC at some point in the late 1950s to create the fringe Democratic Party of Nigerian Citizens, and rejoined NCNC later on. He served as Minister for Trade and Communications, and also a Special Adviser to the Prime Minister on African Affairs.
Mbadiwe also served in the second republic under President Shehu Shagari as a Personal Adviser on National Assembly Affairs. He was also the first and only "Ambassador Extra-Ordinary and Plenipotentiary" appointed to the Federal Republic of Nigeria. Ozumba Mbadiwe, aka "Man of Timber and Calibre" had a larger than life character. Some of his accolades include the Ononenyi of Orlu, the Maye of Lagos, the Agadagbachiriuzo of Arondizuogu, among others.
He built and inhabited the landmark, The Palace of The People, at Ndianiche Uno commissioned by late Prime Minister Abubakar Tafawa Balewa in 1965.
Death
Kingsley Ozumba Mbadiwe however died in 1990 at the age of 75, and was survived by six children. In his honour, a road in Victoria Island was named after him.