Drop-shipping is a first choice for many people looking to start a business with little or no capital. In its most basic definition, dropshipping is a three-way system or model of transaction where the entrepreneur can run a virtual store without ever holding any inventory. The role of the entrepreneur in this system is to advertise products and source buyers. After receiving sales orders, (s)he passes it on to the third-party supplier, who packages the products and passes on to the delivery/logistics.
The delivery man then ships the order directly to the customer on behalf of the entrepreneur. Thus, at the end of the transaction the individual would have made a sale (and profit of course) without seeing, holding or touching the product. The entrepreneur needs not have an inventory or bother about warehousing and storage space. As one who is running a dropshipping business, you make your money off the price difference between the suppliers price and your selling price to the customer. One can make hundreds of thousands in dropshipping, from any location in the world.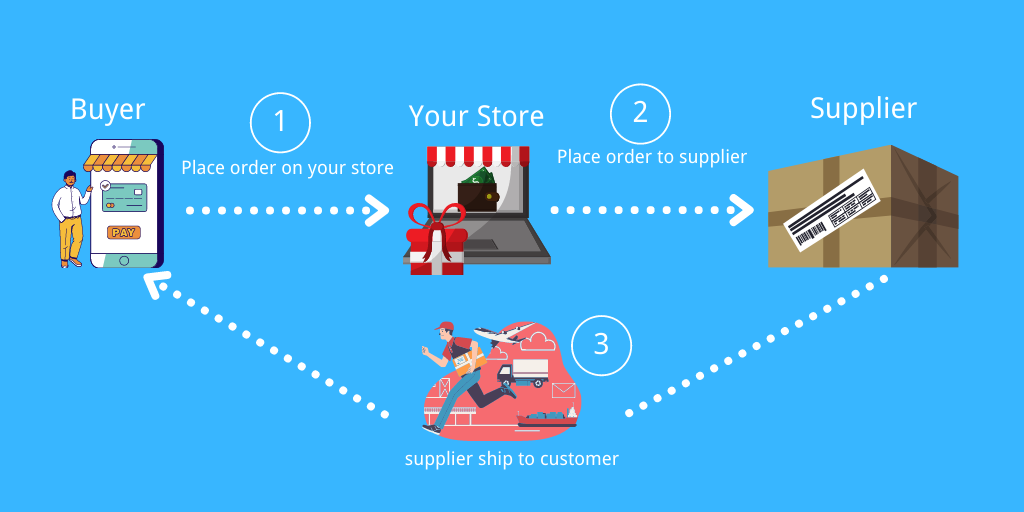 You can be in Nasarawa state and run a dropshipping business, sourcing for buyers in Lagos state and a supplier in the same location (to cut down delivery costs). It is thus, a business that must be based on trust. You must get trustworthy suppliers because as far as the customer is concerned, you have sold him the product. If there is any problem with the goods, it is your name and reputation on the line.
Are you interested in starting a dropshipping business? Here is how to go about it.
DECIDE WHAT YOU WANT TO SELL
Take some time to find the best products to dropship. That everybody is making money from selling two-pieces, bags and kicks does not mean that that is the only profitable business for you to explore. There are other businesses like phone cases, props, cosmetics, wallpapers, ring light, press on nails, jewelry, waist trainers, large gadgets like refrigerators, laptops etc. Some people even use this model to sell cars.
The beauty of the business is that capital is not a restriction. Since you do not need to purchase and store the products yourself, you are not restricted by the price or size of the product. You can dropship a product worth as little as N800 or as much as N1 million. You also do not need storage space so you can hardly be bothered about the size of the product.
When you get a list of possible items to sell, check out the popularity of the products. This helps you understand how popular a product really is. You don't want to spend so much time and resources marketing products that people are not interested in.
DO A MARKET/PRODUCT ANALYSIS
The second thing to do is to check out other vendors in the market, study their modus operandi. An easy way to do this is to type the name of one of the products you want to sell into Google and do a quick search to see who shows up on top, especially around your proposed area of operations.
The top ten results on Google or any other search engine will give you a good indication of your competition in a certain location. You can also hunt around on social media using the search box and see competitors that appear.
Finding a competitor does not mean you should stop right here. Take a look at what they are doing, how they are marketing and selling the products, and pick a lesson or two from them. Look out for those products that have negative and unsatisfactory reviews, and decide whether or not to also include those products in your dropshipping business. Check out the products with top reviews and consider what to add to your list.
FIND A SUPPLIER
Having decided on your list of products, the next thing to do is search out a supplier. Depending on the range of products you have selected, you may have one or multiple suppliers. The emphasis in any supplier you get should be trustworthiness and reliability. So take the time to do your due diligence. You do not want to end up with a supplier who sends damaged or fake products to your customers. You also need a supplier that can deliver to your customers in good time.
There are dropshipping groups on different social media platforms if you do a search or ask around, and you can get some reliable ones. If you can, make a sample order to test out the supplier's reliability. There are also e-commerce stores and websites owned by mini-importers that could sign you up as a dropshipper. For instance, Wix e-commerce has a drop-shipping section that allows you source products from their catalogue for dropshipping purpose. This may be feasible for you depending on your locations. But there are several bulk importers and wholesalers who create a group for dropshippers to have access to their inventory. It is an easy way for them to sell out fast. Check reviews and ratings and get someone trustworthy. You will be running the business mostly online, and you do not want anyone offering you cock and bull stories.
Some people take the pain of going to the market to look for wholesalers and suppliers to work with. For instance, there are some suppliers in major markets like Alaba International market that enter dropshipping agreements with individuals. After all, it is a means of improving their sales. Note that the onus is on you to test and prove your suppliers reliability. Don't be scammed.
SET UP A DROP-SHIPPING AGREEMENT
Having found a supplier or suppliers, you can now proceed to get an agreement signed with each of them. Remember our recent post on 5 options for small business owners that cannot afford a lawyer. Many people in dropshipping businesses today actually go ahead to operate without having any formal agreement, but as a Smartpreneur, you already know not to leave things to chance. Have everything spelt out in black and white.
Discuss and agree on terms for cancellation of orders, shipment problems, order delivery process and timeline, shipment problems, terms for refund in case of damaged or fake products, billings and discounts, return policy, guarantee or warrantee policy, sales and tax etc. Once you agree on all this, spell it out and have both parties sign in the presence of a witness. It can be very informal, even handwritten if you do not have the means. It can be very formal with a lawyer and all that. But having something is better than nothing.
BUILD A DROP-SHIPPING E-STORE WITH YOUR SOCIAL MEDIA HANDLES
Typically, dropshipping is the business that can be started with zero capital. But this does not mean you should try to make all the sales in your room. The online space is unlimited, and totally rent free (except for data costs). Decide a name for your business store and create a presence online. From there, you can start making awareness posts and showing the products to your network. You need not run a sponsored post or ads before you start making sales in dropshipping. Someone on your contact list may need some of the products you want to dropship, and because they know you, they will be confident to buy from you.
Start with Whatsapp business. Create a business profile, and then build a product catalogue displaying the products images and videos, alongside their prices. The arrangement with the supplier allows him or her to send you pictures and videos of the products, without any watermarks or price attached. You can now put your own watermark, with price tags and contact details as you please. We have a post on how to create a product catalogue with WhatsApp business.
Also set up an Instagram and Facebook account, as these two media are key in achieving sales. A significant percentage of your target market are on these platforms. Take the time to set up your profile, and ensure to add the link directing them to your whatsapp business where they can view your catalogue.
Start your marketing drive using your contacts
It is now time to start posting beautiful pictures and explainer videos of your products on social media. Make use of your personal network and contacts, and get them to reshare your posts. You should be making sales in no time.
P.S. Even though dropshipping can be started with zero capital, you can take it a step further by deciding to create your own website or e-commerce store, especially if you have the long-term in view. But to do this, you will have to be working directly with an importer so that you never run out of products. Having a website can significantly increase your sales, and justify the money you use in setting it up. Check out our article on HOW TO BUILD YOUR WEBSITE IN SHORT, SIMPLE STEPS.